Greetings from President
Since our foundation in 1963, along with the development of various industries such as transportation equipment, electronic components and construction tools, we have offered innovative products apply in changes of times while making full use of our own technology with the slogan "the number of our customers is the number of orders."

"Offering high quality products within short delivery" to meet the needs of society, we continue to offer new types of materials which Sanalloy has developed to support our customers' transmission of their manufacturing techniques.

In addition, we will also continue to seek challenges in the development of the industrial world by further promoting production plants outside of Japan, superior quality through technical innovation and reduction in delivery times through enhancement of production capacity. We would appreciate your continued guidance and support.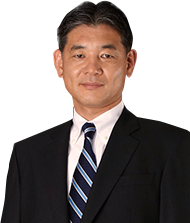 President & CEO
Seiji Yamamoto